L'un Des Sens


Place de L'Eglise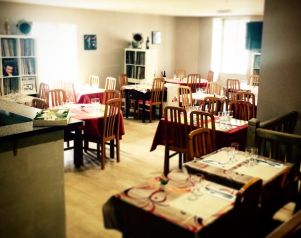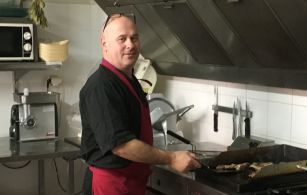 HOURS


TUESDAY - SUNDAY
07:00 – 14:30
18:00 until all patrons have left


From September


MONDAY – SATURDAY
7.00 – 14.30
18:00 – until all patrons have left
Kitchen opening tmes:
Lunch from 12.00 – 14.00
Dinner: 19.00 – 22.00
Reservations recommended for dinner and large parties.


CONTACT


PHONE: 09 53 73 47 14
EMAIL: luds.restaurant@gmail.com
FACEBOOK


L'un Des Sens

is a restaurant situated opposite the magnificence of the 12th Century Church. The restaurant opens out onto a beautiful terrace where you can sample a regularly updated menu with everything from delicious starters, tasty snacks, sharing platters, pizzas and other mains… Save some room for a dessert!
They also have a set 3 course menu for 22€. The menu is updated seasonally and they are also happy to
make some modifications on request to suit their regulars' taste.

The staff are incredibly friendly and will take your order for drinks and food to eat in or to take away.
Everything on the menu is lovingly homemade. The attraction of L'un Des Sens goes much further than the mouth-watering food. The restaurant has a huge collection of vinyls so you can choose your soundtrack as you enjoy a beer. If beer is not your thing, there is also a list of skillfully made cocktails to quench your thirst!

Allow yourself to be taken back in time through the power of music…
Though the music plays six days a week, there are particular events you definitely don't want to miss! Every Wednesday there is a poker night at L'un des sens. Bring your best poker face to the table! In addition, once a month there is a theme night… Summer nights, 60s music. This night is not to be missed!
________________________________________



Clubhouse Snack Bar


Lac Etang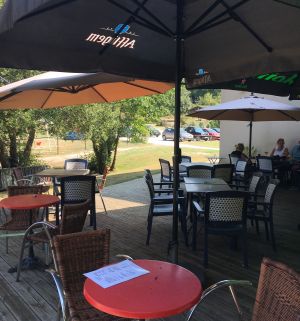 HOURS


Summer


All day from 9:30 till 2:00 am (kitchen closes at 22:00)


Rest of the year


WEDNESDAY TO SUNDAY(Times to TBC)
CONTACT
PHONE: 06 78 92 59 05
EMAIL: tombov82@gmail.com
FACEBOOK
This kitchen is open all day until 22:00, so whether you fancy a meal or just a snack the
cooks at the Clubhouse snack bar will be happy to oblige! Some of the snacks include burgers and pizza etc!

During the summer months there is a bbq every Monday night and bookings are welcome to ensure you have a place as it can get very busy, especially as there is a different band playing on that day. In addition to the bar, restaurant and game room, the Clubhouse snack bar organises concerts every Thursday evening. Other activities run by the Clubhouse snack bar are:

Darts Team on Wednesdays
Different events every Saturday inc: concerts, quiz nights, etc.
________________________________________



Quai Sud Bar


Etang Vallier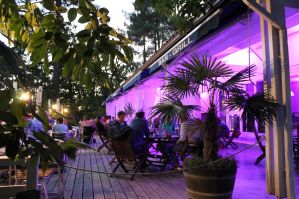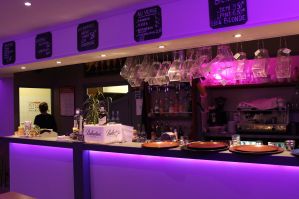 HOURS




September - June



WEDNESDAY/ THURSDAY/ SUNDAY
Lunchtime from 12:00 - 13:30
Dinner time from 19:00 - 21:30
FRIDAY/ SATURDAY
Lunchtime from 12:00 - 13:30
Dinner time from 19:00 - 22:00



July - August


CLOSED ON MONDAYS
TUESDAY - SUNDAY
Lunchtime from 11:00 - 14:00
Dinner time from 18:00 - 21:30
* Reservations recommended for dinner and large parties
* Open until all patrons leave
* Menu changes daily


CONTACT


PHONE: 05 45 98 44 18
FACEBOOK
Quai Sud is a continental bar restaurant located off the beaten track, next to the beautiful 'Etang Vallier' lake. It features a large open terrace where you can enjoy a French beer, a range of European wines or even the house specialty cocktails, surrounded by birdsong and a lovely view. Boasting an exceptionally varied menu, Quai Sud serves everything from a selection of mussel dishes to Mediterranean tapas. They pride themselves for making all their products in house. They are also well known for serving the famous

Fonteneau Oysters

freshly delivered to them straight from the farm. Quai Sud has a mélange carefully picked to suit every palate. Nicolas, the friendly owner, is always on hand with service, discussion or banter.

Perfect dining for sunny weather, a typical evening at Quai Sud includes an apéritif, followed by a delicious meal and a few drinks. For those daring enough, the 'Cucaracha' is a specialty concoction of coffee, liqueur, vodka and vanilla, set alight by Fabrice himself. Bonne chance! - S.T.



Wines

:

Offered in Red, White and Rosé, including wines from Spain as well as
the traditional Bordeaux and Charantais selection.



Cocktails

:

The Cucaracha - coffee liqueur, vodka, vanilla (Flaming)
Cuba Libre - rum, lemon, coca cola
Havana (ice cream cocktail, with alcohol) - chocolate ice cream, pralines, coffee liqueur, chantilly cream