Brossac Village

Brossac village has all one needs to compliment a stay in The Southwest of France


Brossac Village Charente France

Lake: Lac Etang


Etang Vallier
16480 Brossac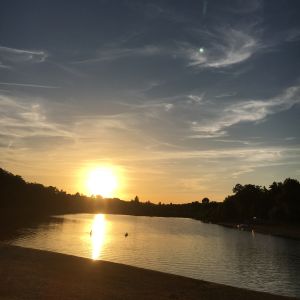 The main attractions just by Brossac village are the two neighbouring lakes - one for leisurely sunbathers and swimmers, while the other sates the thirst of those who want more excitement and want to jetski.
The first lake is located in Etang Vallier, or fondly known as the Village de Vacances, ('Vacation Village'). Indeed, on a sunny day, you will find that you hear more English than French by the beach. Normally, lakes do not have beaches, but this beach has been artificially created. So not only is the sand soft, it remains impeccably clean as smoking and littering are not allowed on this beach. With lake waters and a gradual shoreline, you can choose to soak up the sun on your towel or enjoy a soak right by the edge without getting water in your ears.
For those who want more activity, you can rent small boats and other bouyant crafts for excursions onto the lake. There is also a rope swing for those who want even more excitement. This is no ordinary rope swing though. If you walk up the side of the lake, or swim to it, you will find a sturdy metal chain with a leather strap at the end to assist in making the smoothest slip or the biggest splash. Someone even added a sock to help in the acrobatics. Just a word of warning to those who are no longer of child height: lift your legs up high or you may find your body slamming into the lake! The sand is soft though, so no matter what, you'll have fun.
If water sports do not excite you, or lake water causes you to hesitate, there is a recreational and sports facility right by the lake. There, you can do laps at the pool, escape to the sauna, or play a few rounds of squash with your buddies.

Last but not least, do not worry about having to lug heavy bags of food and drink to this lake. There is a clubhouse with a full bar right by the shore, and walking a little further will bring you to restaurant bar

Quai Sud

.
Whether you come in the afternoon or night and whether you want to lie in the sun or take a swim, there is definitely something for you to do here. What are you waiting for?


Clubhouse


Etang Vallier
16480 Brossac


CONTACT


PHONE: 05 45 98 07 83
Facing the Lac Etang is the Clubhouse. Please note that there are two sides to the Clubhouse and that they are run by different owners. There is the snack bar/restaurant side. This side which houses entertainment facilities as well as a kitchen is open all day until 22:00, so whether you fancy a meal or just a snack the
cooks at the Clubhouse snack bar will be happy to oblige! In the side of the Bar and Restaurant there is a room containing a pool table, football table and a ping pong table. This is also where you can join some friends in a game of crazy golf. Get your putter ready and send those balls careering through tunnels and over bridges and into the hole before your friends do, or you'll have a lot of boasting to listen to. Either way though, you'll have a crazy time! For Americans, this is called miniature golf.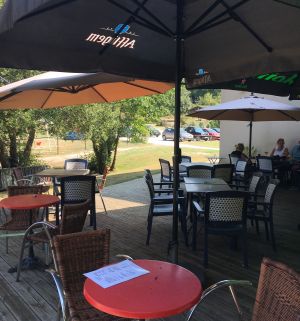 If this isn't enough to send you racing down there right now, you can also play in the bouncy castle, swings, and trampolines with admission to the minigolf course! Of course, if you are a little kid only at heart, it is worth bearing in mind that the bouncy castle and trampoline can only hold one at a time.

In addition to these, the clubhouse now has further activities to keep you entertained. If you like to test your patience fishing is available both day (until 20.00) and night (from 20.00).
There are passes available for regular fishermen. Please note that the use of bait is forbidden.
If you are more into active sports the clubhouse offers you squash courts where you can challenge your
friends to a match. Do not worry if you did not bring your rackets! You can rent them onsite.
Lake: Lac Sensation Frisson


Avenue Chez Baribas
16480 Saint Vallier (16 kms from Chalais)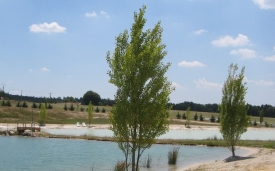 The Lac Sensation Frisson is only open in July and August, but during this period it is open from 11am til 11pm, six days a week (closed on Mondays). It promises to be an exciting day, with quad bikes, toboggans and jet skis which are sure to get the adrenaline rushing!
For adrenaline junkies, at Lac Frisson you will have the pleasure of finding our

tobogan Aquatique

-
a water slide of 36 metres - to slide down through the loops if you are seeking a thrilling experience.
The slide falls into the lake water, which is free of chemicals and respectful of nature and the environment.
The Lac Sensation Frisson is suitable for beginners and amateurs as well as couples, families and businesses. After all the thrills of the day, you can relax at the restaurant, which offers a range of hot meals, salads and sandwiches.
Lake: Lac de Beauvallon


Rue du Lac
Lot Patio 1 20
26800 Beauvillon
HOURS
MAY: THURSDAY TO SUNDAY (from 11:00)
JUNE: TUESDAY TO SUNDAY (from 11:00)
JULY/AUGUST EVERYDAY (from 11:00)
CONTACT
PHONE: 05 46 04 22 99

Nestled in the heart of a pine tree forest you will discover "the Double Saington"; this leisure park comprises a
lake with an artificially created beach available for swimming and free time activities. There are plenty of activities for the family such as: pedal boats, a small harbour, games for children, water bikes, etc. After a swim you can enjoy some refreshments in the restaurant terrace or a good meal at lunch or dinner times.

Close by you will find the walking trails right in the heart of the forest and the home to the Maison de
la Forét. Dedicated to the trees and to human activity, the Maison de la Foret is a historic heritage site
for Montguyon and its surroundings dotted with castles and Roman churches alongside the night markets and various summer events. In the vicinity, you can discover the Dordogne region, the truffle capital; the river Blaye and the Gironde estuary and the village of Aubeterre, one of the most beautiful towns in France.
Chalais Market and Castle




Chalais Market


Another attraction near Brossac village, though not within walking distance, is the weekly Monday market at Chalais, the city with the nearest train station! Not quite a Farmer's Market, nor a Flea market, you can find all sorts of knick knacks early Monday morning from 08:00 until about mid-day. Perhaps you want some fresh produce, fruit, or meats or perhaps you're more interested in some traditional French hot food. Vendors sell chichis (churros), crépes, paella, moules (mussels), and other assortments of delicacies. If you want a pet, you can buy chickens, roosters, parrots, and even guinea pigs. Of course there are clothes, accessories, and other goodies for the house, like collapsible food nets to keep the flies away from that fragant French cheese you just bought. The vast array of scented soaps and jewellery make excellent gifts.



Chalais Castle


At one end of the market, a steep incline leads you up to Chateau de Chalais, or Chalais Castle. Though no longer functioning as a castle, you can still cross the drawbridge and wander through the courtyard and get a glimpse of the rolling hills that make up the Charente region.
Owned by a well known French comedian the castle is in habitable condition and guided tours of between 1 and 2 hours, sometimes in English, are carried out by very enthusiastic volunteer guides representing the "Association for the Safeguarding of Chalais Country Heritage".
The price of the tour is 8 Euros and it is a very comprehensive tour, which will take you to all the rooms that are considered safe to visit. Access to the third floor is not permitted as the stairs are hazardous. If you decide to visit you will find that most of the rooms contain something of interest, including much beautiful period furniture. Please note that photography is not permitted in much of the inside.


HOURS




MAY TO JUNE


Every weekend and Bank Holiday
15.00 -18.00


JULY TO SEPTEMBER


Tuesdays to Sundays
15.00 – 18.00

In addition, there is a restaurant/café in the courtyard. So if you want do as the French do and sip some coffee or tea, order a drink from the friendly owner, and sit in the shade and watch as the sun's rays warm up the day. There is also a set menu for lunch.
This website was produced by volunteers and interns from La Giraudiere. To read more about their contribution and how this subdomain was created, please visit Brossac Website Creators you will also find a link to our Site Map and our contact information




This website is hosted by La Giraudiere and sponsored by it's association
Les Amis de La Giraudiere