Brossac is surrounded by beautiful countryside and is great for walking or cycling. Brossac lake is a short walk away being about 2 km outside the village. However, if you wish to travel further afield, then you will need some form of transport.

Buses
A daily bus service runs from Brossac about 50 metres from the Marie and Tourist Office (opposite the Chateau, Place de Mariners). It will cost 1€ to travel anywhere within the Poitou-Charentes region.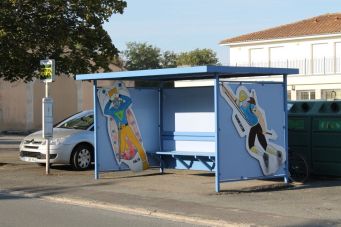 The number 11 bus runs through Brossac (Chalais to Angoulème)and operates from Monday through Friday.
These times are fairly consistent throughout the year, but check timetables for variations prior to travel.

Timetable for No.11 Bus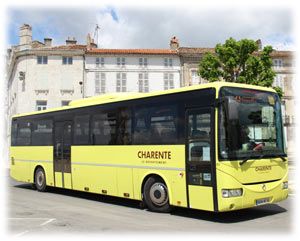 Buses to take within the Poitou-Charentes Region


________________________________________

Trains
The nearest SNCF train service runs from Chalais, just 8 km from Brossac. This is on the Paris - Angoulême - Bordeaux
line and connections to other destinations can be made at these main stations.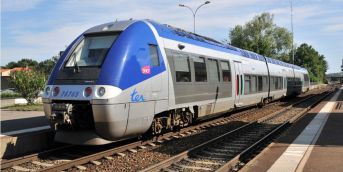 This north-south route is the quickest and easiest route for travelling in this area.
The journey between Chalais and Bordeaux takes about 80 minutes. The journey between Chalais and Angoulême takes about 30 minutes.
Please note: there's no evening train from Angoulême to Chalais on Saturday.
Visit TER SNCF Schedules for more information.

Angoulème is central on the west-east line whose main stations are


Royan-Saintes-Cognac-Angoulême-Limoges


From Bordeaux you can travel west to Arcachon and also on the St. Emillion - Bergerac - Sarlat route or on the Mussidan - Perigueux - Limoges route. Between Chalais and Bordeaux are two important stations for connections and frequency of trains - Coutras and especially Libourne, from where you can get to the Dordogne, the Pyrenees and the West coast of France.
Tickets can be purchased from larger stations at most times and from smaller stations during ticket office opening hours. When this is not possible you can pay for your journey on the train - be sure to approach the official for this before they ask you for your ticket otherwise you may be liable for a fine.

You can also book any journey on the French Rail network online using RailEurope and Voyages SNCF.
RailEurope (en)
Voyages SNCF (fr)

For information on individual station services, time tables and booking tickets, see Stations in Motion (Gares en Mouvement)
Stations in Motion

More information on train lines, bookings, website links, phone numbers can be found here.
________________________________________



Car Hire


Car Hire is available from all airports and train stations. Some common rental car companies are
Budget Rent A Car, Avis, Europcar, Hertz.
________________________________________



Taxis


The nearest taxi service is 8km away in Chalais. It costs approximately 25€ for a ride from Chalais to Brossac, and may take up to 10 minutes for the ride.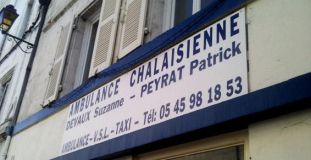 Ambulance Chalaisienne
17 rue de Barbezieux
16210 Chalais


CONTACT


PHONE.: 05 45 98 18 53
MOBILE : 06 89 85 75 07
http://www.chalais-taxi-ambulance.fr/
_______________________________________



Stop-overs


The timings of your initial journey to and from the Brossac area, and the timings of subsequent journeys, by train or bus whilst exploring the area, are likely to mean that you will need a hotel for a night and you will need to account for this in your budget. Stations at Angoulême, Bordeaux, Limoges, La Rochelle and Poitiers all have reasonably priced hotels within walking distance of the station.
Etap, Ibis, Best Western and Apart 'city hotels will be familiar names so that you know what to expect.
Also see La Giraudière's Guide to Hotels in Southwest France.