Clubhouse


Etang Vallier




Brossac




Tel:

07 86 56 62 66



This kitchen is open all day until 22:00, so whether you fancy a meal or just a snack the




cooks at the Clubhouse snack bar will be happy to oblige! Some of the snacks include burgers and salads.

The manager, Nina, always gives a friendly welcome, and if you're looking to enquire about holiday rentals, she is also the person to ask!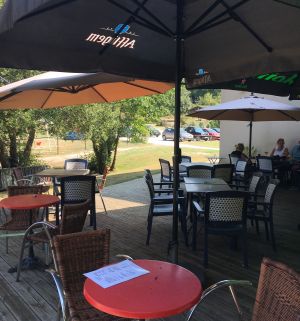 During the summer months there is a BBQ every Monday night and bookings are welcome to ensure you have a place as it can get very busy, especially as there is a different band playing every week. In addition to the bar, restaurant and games room, the Clubhouse snack bar organises concerts every Thursday evening.

Friday 6pm - midnight
Saturday 11am - 6pm
Sunday 11am - 6pm
SUMMER HOURS
All day from 10:00 till late (kitchen closes at 22:00)
SUNDAYS

10:00-19:00