Restaurant Quai Sud

Etang Vallier
Brossac

Tel : 05 45 98 44 18

Quai Sud is a continental bar restaurant located off the beaten track, next to the beautiful
'Etang Vallier' lake. It features a large open terrace where you can enjoy a French beer, a
range of European wines or even the house specialty cocktails, surrounded by birdsong and a
lovely view of Brossac lake and it's beaches. Boasting an exceptionally varied menu, Quai Sud
serves everything from a selection of mussel dishes to Mediterranean tapas.
They pride themselves for making all their products in
house. They are also well known for serving the famous

Fonteneau Oysters

freshly delivered to
them straight from the farm. Quai Sud has a mélange carefully picked to suit every palate. Nicolas,
the friendly owner, is always on hand with service, discussion or banter.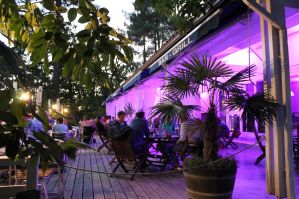 Perfect dining for sunny weather, a typical evening at Quai Sud includes an apéritif, followed by a delicious meal and a few drinks. For those daring enough, the 'Cucaracha' is a specialty concoction of coffee, liqueur, vodka and vanilla. Bonne chance! - S.T.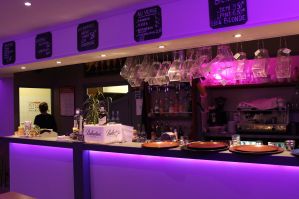 OPENING HOURS





September - June



WEDNESDAY/ THURSDAY/ SUNDAY
Lunchtime from 12:00 - 13:30
Dinner time from 19:00 - 21:30
FRIDAY/ SATURDAY
Lunchtime from 12:00 - 13:30
Dinner time from 19:00 - 22:00



July - August



CLOSED ON MONDAYS
TUESDAY - SUNDAY
Lunchtime from 11:00 - 14:00
Dinner time from 18:00 - 21:30

* Reservations recommended for dinner and large parties
* Open until all patrons leave
* Menu changes daily


CONTACT


PHONE: 05 45 98 44 18

FACEBOOK PAGE




Wines

:

Offered in Red, White and Rosé, including wines from Spain as well as
the traditional Bordeaux and Charantais selection.



Cocktails

:

The Cucaracha - coffee liqueur, vodka, vanilla (Flaming)
Cuba Libre - rum, lemon, coca cola
Havana (ice cream cocktail, with alcohol) - chocolate ice cream, pralines, coffee liqueur, chantilly cream